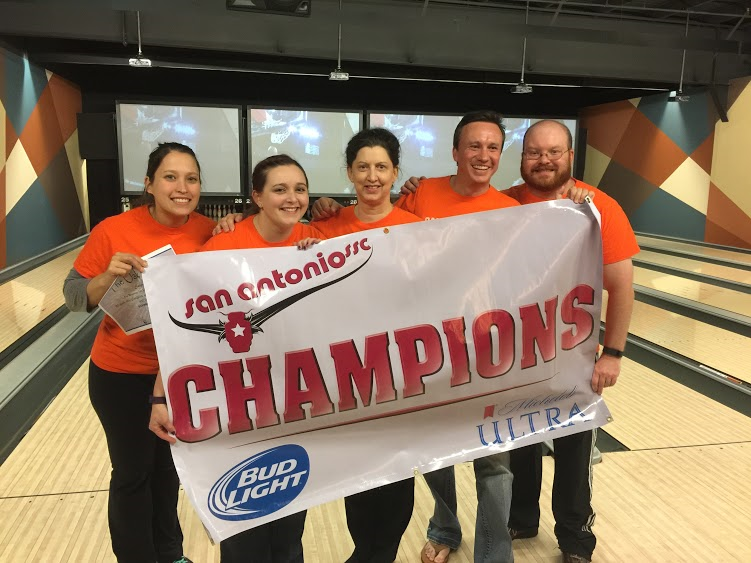 Its Playoff Time and we have 8 teams battling it out for the Oak Hills Bowling Championship.  In the first round we have Pocket Pounders vs Gutter Trash, Prestige Worldwide vs Split Happens, BJ's Little Bowlers vs Red McCombs Toyota, Snakes On A Lane vs El Boozerinos.  Lets get this started.

Pocket Pounders came out knocking down pins, they really set a goal to win the whole thing and dominated Gutter Trash and made a statement early as the team to beat.  Prestige Worldwide defeated Split Happens to move on to the next round but it was not an easy win, they started off close and it could have gone either way for about 5 frames and then Prestige Worldwide stepped up their game and pulled away for the win.  BJ's Little Bowlers and Red McCombs Toyota was the closest first round matchup we had and it came down to the last 2 bowlers for BJ's Little Bowlers, needing to finish with all strikes to win and move on they came up 4 pins short and Red McCombs Toyota held on and moved on to the next round.  Snakes On A Lane made the playoffs but they struggled to put up a score that would defeat El Boozerinos who really bowled well.  On to the next round we go.
Round 2 brings us a few good matchups.  Pocket Pounders vs El Boozerinos, Red McCombs Toyota vs Prestige Worldwide.  Pocket Pounders watched how well El Boozerinos bowled in their first matchup and they knew they would have to step up their game and they did.  Pocket Pounders bowled 600 as a team to earn their spot in the championship game and El Boozerinos did all they could to stay in it.  Red McCombs Toyota struggled with Prestige Worldwide and they seemed to tire out a bit and Prestige Worldwide took advantage and really bowled well to move on to the Championship game.

Championship Matchup… It's A Family Affair….. Pocket Pounders vs Prestige Worldwide.  Now let me set this up for everyone, both of these teams know each other very well, and I mean family well.  Prestige Worldwide has bowled with us for a while and due to having family members who enjoy bowling they had a lot of people interested in bowling with them.  Well long story short, with this many people they had to create 2 teams and along comes Pocket Pounders.  These to teams consist of husbands and wives, cousins, in-laws, college friends, work friends, siblings and boyfriends and girlfriends.  Its awesome to see these teams compete with each other and still be supportive the entire way.  As for the bowling, it was pretty good too, but Prestige Worldwide was on a mission and their star female bowler really came through in the clutch and bowled a 200 to carry her team to the promise land.  Congrats to Prestige Worldwide & Pocket Pounders for having great seasons and making it fun for everyone.

High Team  – Pocket Pounders – 600
High Male – Ronnie (Pocket Pounders) – 175
High Female – Patty (Prestige Worldwide) – 200
Great job to everyone this season