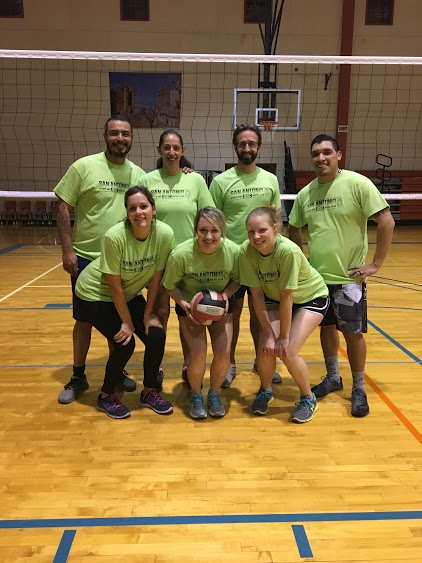 Week 4 of indoor volleyball at St. George and it has been nothing but good vibes all season. All the teams get a long so well and are really respectful to the ssc staff. the competition remains high as well as the social atmosphere. Several teams have made it a tradition to have several drinks before their games at Little Woodrow's where they take advantage of $4 beer mugs. Shout out to Bump Set Spike and Beta Blockers for always supporting our sponsor bar.
As we head into the final weeks of the season, Beta Blockers and May the Ace be With you stand at the top of the leader board. Beta Blockers have remained undefeated all season, however they haven't faced off against May the Ace be With you who only lost one game this season. Both teams look sharp every week and it will be an interesting game next week when the two face off. Bump Set Spike and Hot Tamales are both in the middle of the bracket with a 2-2 record. Both teams have played very well these past couple of weeks and deserve their spot in the playoffs. Next week will propel one of them above.
Tonight, May the Ace be With you and Block You Like a Hurricane faced off in game 1. Block You Like a Hurricane have been a stand out team whom have a lot of love for the game. Although their standing doesn't reflect how talented they are, these players show up ready to compete every week. Tonight May the Ace be With You handled their competition with ease and won 2-0 by 10 points each.

The second game was between Safe Sets and Hot Tamales. Both teams are evenly matched which led to a three set match. The first game went to Hot Tamales who won 25-18 by capitalizing on Safe Set's mistakes. The second match came back to Safe Sets who were able to nudge out the competition by 4 points. The final set was closer than all the other sets coming to the final point where Hot Tamales won 15-14.
The final game between Beta Blockers and Bump Set Spike was full of laughs and a good time. As the buzz wore off, both teams seemed to just get better and better. However, Beta Blockers have some really talented offensive hitters who were able to go on nice runs winning 2-0.